Hi, there.
Today I'm in Los Angeles, the San Fernando Valley to be exact, visiting family with my daughter. I have the kind of daughter (3-years-old) who doesn't let me leave her side for more than a few minutes so I made a stealth move while napped and went on a bit of an adventure…
I cut through mid-day traffic, past a few school dismissals and at least one really savage car wreck on the way to Stoney Point, this majestic rock formation/hill/mini-mountain that looms over the Valley and basically constitutes its northern border. Why? Well, I'm doing final edits on a book called The Anglekeeper that I'm going to finally present to you all this year, set in locations throughout the West Valley. People ask me what it's about and my short pitch is that it's about a boy who discovers his dad is a transdimensional wizard. And then his realization that he is his dad's enemy. It's like an Oedipal Harry Potter, but not for (young) kids. There's some heavy homages to things like The Terminator and A Wrinkle in Time in there as well (I wouldn't fault anyone for not catching it, though). But what the book is really about is my obsession with the West Valley as a place. I love(d) it. It's weird, magical, sedate, and, yes, soul-crushing and boring to some extent as well. It's a place of contradictions that will always be charged and special to me, and yes, some of that is nostalgia but today, I realized that some of it is just natural beauty hiding in plain sight.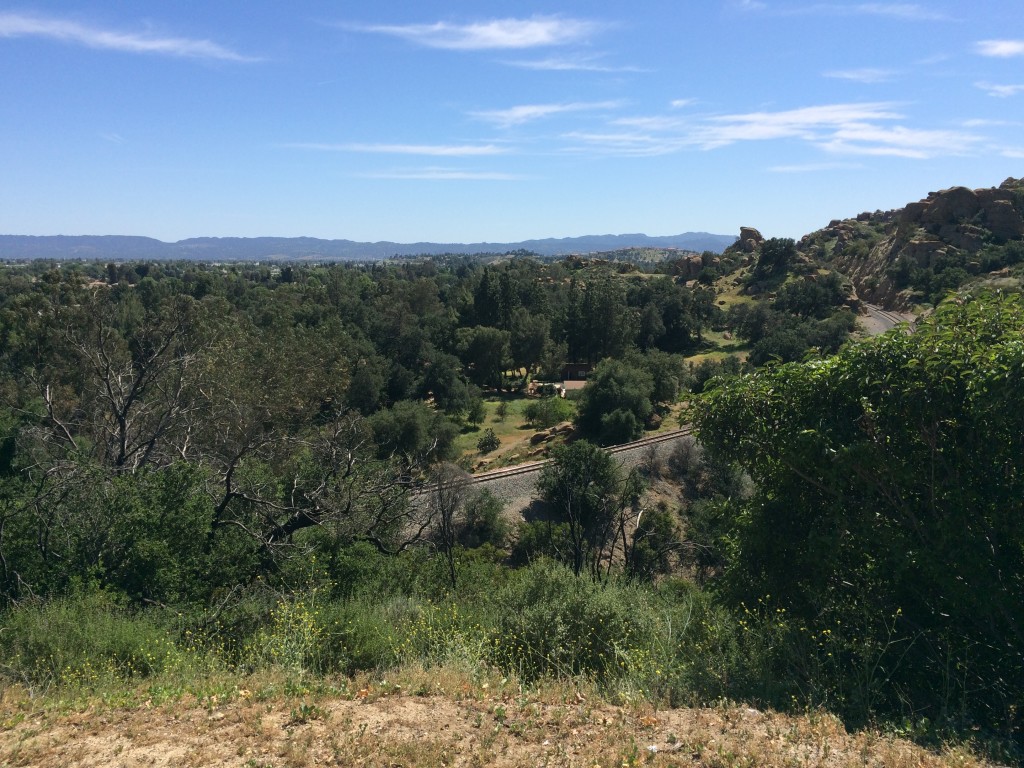 The traffic forced me to cut a route to Stoney Point that passed almost every key location of the novel: Woodlake Avenue Elementary, Shadow Ranch Park, the corner of Fallbrook and Vanowen (site of aforementioned car wreck), and the corner of Plummer and Topanga. This was likely a case of subconscious steering but it was enough to make me frankly giddy (and, fuck, if I'd TRIED to hit all those spots, something would've surely stood in my way). By the time I reached Stoney Point, my breath was nearly taken away. The woods adjacent to the 118 were…lush. And deep enough, seemingly, to get lost in. There's a seriously epic and confusing altercation that goes in those woods in my book and what I'd imagined wasn't even doing this justice. I couldn't believe in the midst of this drought how green everything was. I was so happy.
I drove back through Box Canyon, amazed at how long it takes to get back to the main intersecting roads through that route. Yeah, it's at an angle to the thoroughfares but, my god, how much land is back there? I passed at least two homes that certainly belonged to creators in the porn community. And after all these years, the old (but renovated) sign indicating the dedicated road that leads to a Boeing facility clearly indicated that there's something untoward happening at that particular Boeing facility. Something beyond what we know of as nature. After all these years of knowing that that sign was there, I for once felt certain of that fact.
Which brings me to my current read: Annihilation by Jeff VanderMeer. This is the scariest book I've read in a long time. Like, check the locks and don't read it alone at night scary. I'm almost positive that he watched LOST and decided to create something tighter, less sprawling, and more focused on that fear of the unknown that drives those earliest episodes. I struggle to even express what it's about. Most synopses will tell you it's about a mysterious Area X and an organization called the Southern Reach manipulating our protagonists struggles from on high. But the truth is, you're never really thinking about Area X or Southern Reach. The book is about the borders of our perception and how the things that are just outside of it, the things that don't allow us to face them head-on, become the things that drive us. It's about how hard it is to trust our brains when we don't trust everything that they're receiving, and how what we see and what we feel rarely jibe. I think that's all I can say about it right now (I'm not quite done) but suffice to say, highly recommended.
Annihilation, of course, isn't just an abstract concept for some people. Some very good friends of mine and other allies of the Bay Area creative community suffered the loss of their homes, businesses, and—in two cases—life through a terribly destructive fire in Oakland on March 21st. Without further ado, I wanted to strongly suggest that you donate to their cause: http://www.gofundme.com/AKPressFire.
It adds up and whatever you can spare is appreciated. I'm donating $40. Losing one's home is a profound and severe violation of a basic human right and, as you probably understand, without a substantial safety net (which, in the Bay Area in 2015, means you're a millionaire) it's very difficult to bounce back from a set back like this one. Do the right thing. It's quite easy sometimes.